Norx frequently asked questions
Are Norx® products environmentally friendly?
Yes, Norx® products are made from 95% of recycled materials that would otherwise end up in landfills. They won't splinter or warp the way wood does, so it dramatically reduces the wasteful cycle of repair and replacements—and contrary to wood, composite eliminates the frequent application of environmentally harmful paint, sealers, and stains. Additionally, Norx® regrinds scrap products back into the manufacturing process and recycles water whenever possible.
What is a wood-plastic composite (WPC) product?
Wood-plastic composite products are a mix of hardwood fibers, recycled polyethylene, bonding agents, additives and tint. It is a long-lasting, hard-wearing and low maintenance alternative to traditional lumber products.
The obvious reason for using WPC composite decking is to preserve the environment. As environmental pressures on the industry are growing daily, there is a clear need to extend the life of our traditional building materials such as wood. WPC's efficient use of materials, that are currently seen as waste, supports sustainable development. By using nearly 100% of recycled materials, WPC's impact on our precious forest resources is substantial, allowing us to reduce our carbon footprint. Other environmental benefits of WPC include repurposing waste, using materials free of toxins or volatile organic compounds and the ability to be reground and reused after its service life as WPC is considered a non-hazardous waste.
What will it look like once it's done?
It will look very similar to wood, but without the upkeep that comes with constant sanding or varnishing. We're proud to offer peace of mind and comfort to every customer that enjoys our product with little to no maintenance. Feel free to reach out to one of our reps for a more detailed look at our finished product, and don't forget to follow us on Instagram @norx.us
Will the color fade or change over time?
The resistance to physical changes over time varies depending on the collection you choose. Our high-performance composites represent the latest upgrade in topcoat technology enhancements that provide superior resistance to fading, staining and mildew. You can rest assured knowing that each of our collections are backed by a 30-year fade and stain warranty.
Will the color fade or change over time?
Norx® products are designed to take on very little water (c.1%). Our ranges have a much lower absorption rate than lumber, which dramatically reduces the likelihood of wet rot over a longer period.
Is it easy to work with Norx® composite wood?
Working with Norx® is simple and seamless. You can cut, nail, drill, screw and rout our products with standard woodworking tools. Since the density of our boards is greater than lumber, we do recommend using carbide-tipped blades and bits.
Why are WPC products better than wood?
WPC products offer superior durability and performance that you can't get from wood. Our decking won't rot, warp or splinter and never requires staining or painting to maintain its beautiful, lasting look.
Is HDPE toxic and does it give off toxic fumes when burned?
Polyethylene is non-toxic and used for applications such as milk jugs, water jugs and grocery sacks. When burned completely, it will convert to carbon dioxide and water vapor.
What colors are offered with your composite decking?
We offer two collections of decking, each has four distinct colors: Norx® Paris (Eiffel, Elysees, Triomphe, and Louvre) and Norx® Rio (Corcovado, Ipanema, Leblon, and Copacabana). Decking images showcasing each color can be found on our individual product pages, but if you'd like a closer look, you can order a sample pack here.
What colors are offered with your composite decking?
How far apart should the supporting joists be?
The supporting joist below the plastic composite decking boards should be a maximum of 400 mm apart. For further installation information, please see our installation guide here.
Do Norx boards look all the same?
Every board of Norx® composite decking is designed to be unique and through our variegated colors that uniqueness offers a wood-like aesthetic to your deck and natural touch for your space.
How long does composite decking last?
We offer a 30-year warranty for residential applications on both of our decking collections. However, when carefully maintained, Norx® composite decking is built to last well beyond the 30-year warranty.
Is composite decking more expensive than wood?
The upfront cost is slightly higher than wood, but given its low maintenance cost, its lifetime cost is substantially lower than those of other products in the market—especially when considering its superior durability versus traditional wooden floors. The price difference also depends on the wood species chosen versus the brand of composite decking, and local market conditions. Use our Decking Calculator to estimate your Norx decking project and get a closer look at how it compares to pressure treated wood.
What do I do with leftover WPC decking?
After purchasing and installing WPC decking, there will always be some left over. While it will occupy space when it's piled up, throwing it away is not ideal. That's why we offer a number of solutions for turning these remaining scraps into practical items.
The WPC decking produced and sold by Norx® can be cut, assembled, fixed and processed like wood. The decking board is moisture-proof and mildew-proof, so there is no need to worry about any problems in outdoor use. You can make an outdoor flower pot to stand out of the remaining decking. The remaining WPC decking can also be easily used to pave backyard trails and add a more elevated look to your pathway by putting the decking pieces together and fixing them on the ground. The remaining WPC decking can also be turned into small things like a mailbox or a small stool.
How do I cut WPC decking?
WPC decking is a pressed extruded composite wood product made from recycled wood and plastic. Although it is an engineered product, it can be cut, drilled and fixed like traditional wood. Cutting can generally be done by using standard woodworking tools (table saws, circular saws and miter saws are your best choice). Use hard alloy blades to ensure a smooth cut. Be careful not to overheat the blade during cutting as to not alter the cutting effect. Read our installation guide in advance to ensure proper installation and pay careful attention when fixing and gaping, etc. For additional questions or installation support, contact us.
How slippery does the decking become when wet?
Norx® Decking is designed with micro-grooves that aid in slip resistance. Regardless of conditions, our collections can outperform lumber, however we still recommend extra caution if the decking becomes wet. Designed for a pleasing barefoot experience, the Paris Collection comes with the exclusive Elastic Surface™. A 4 sided protective shield made of elastic and rubber that offers a soft touch and just the right amount of buoyancy for more comfort in every step.
Do I need to have spacing and gaps between the decking?
As composite material expands and contracts down the length of the product from temperature changes, we do require adequate expansion spacing left at the end of each product. The correct spacing required can be found in the WPC decking installation guide of each product.
What cleaning products or soap can I use?
Using standard household soaps will be effective when cleaning Norx® products. Do not use any cleaners stronger than this or any cleaners containing a bleaching agent.
Is Norx® composite really low maintenance?
Yes, our fully capped color technology coats the boards with a high stain-, scratch- and fade-resistant layer. In addition, the boards are waterproof, so there is no need for the extra maintenance that comes with traditional lumber. Normal sweeping and cleaning are still necessary to clean off debris and dirt.
Will Norx®composite decking fade because of exposure to the sun?
Our superior technology gives composite wood boards great ultraviolet resistance. We have tested our boards under direct UV light for hundreds of hours with minimal change.
How do I install the wood plastic composite cladding?
Please refer to our composite cladding installation here.
Will I get a color difference with my cladding?
Our composite boards are produced in batches and made from 60% recycled hardwood, making this a natural product. For this reason, slight color variations may occur (but more noticeable when purchasing different lengths of boards or when laying the boards "wide groove up"). We advise purchasing decking boards in the same lengths to avoid initial color differences. Although we always intend to pick all products from the same batch, when orders are added or amended at a later date, the boards will likely be from a different batch, therefore color variation is likely. Please ensure you order the correct amount of boards on the initial order.
How long does composite cladding last?
We offer a 30-year residential warranty on all of our cladding lines. We anticipate, however, that Norx® composite cladding may last well beyond the 30-year warranty when carefully maintained.
Will Norx® composite cladding fade because of exposure to the sun?
Our superior technology gives the boards great ultraviolet resistance. We have tested our cladding under direct UV light for hundreds of hours with minimal change. Additionally, you'll find peace of mind knowing that your cladding is backed by the same 30-year fade and stain warranty as our decking.
Estimate Your Next Project
Our growing product portfolio meets the needs of every style and budget. Use our Deck Cost Calculator to plan and estimate your next project.
Decking Calculator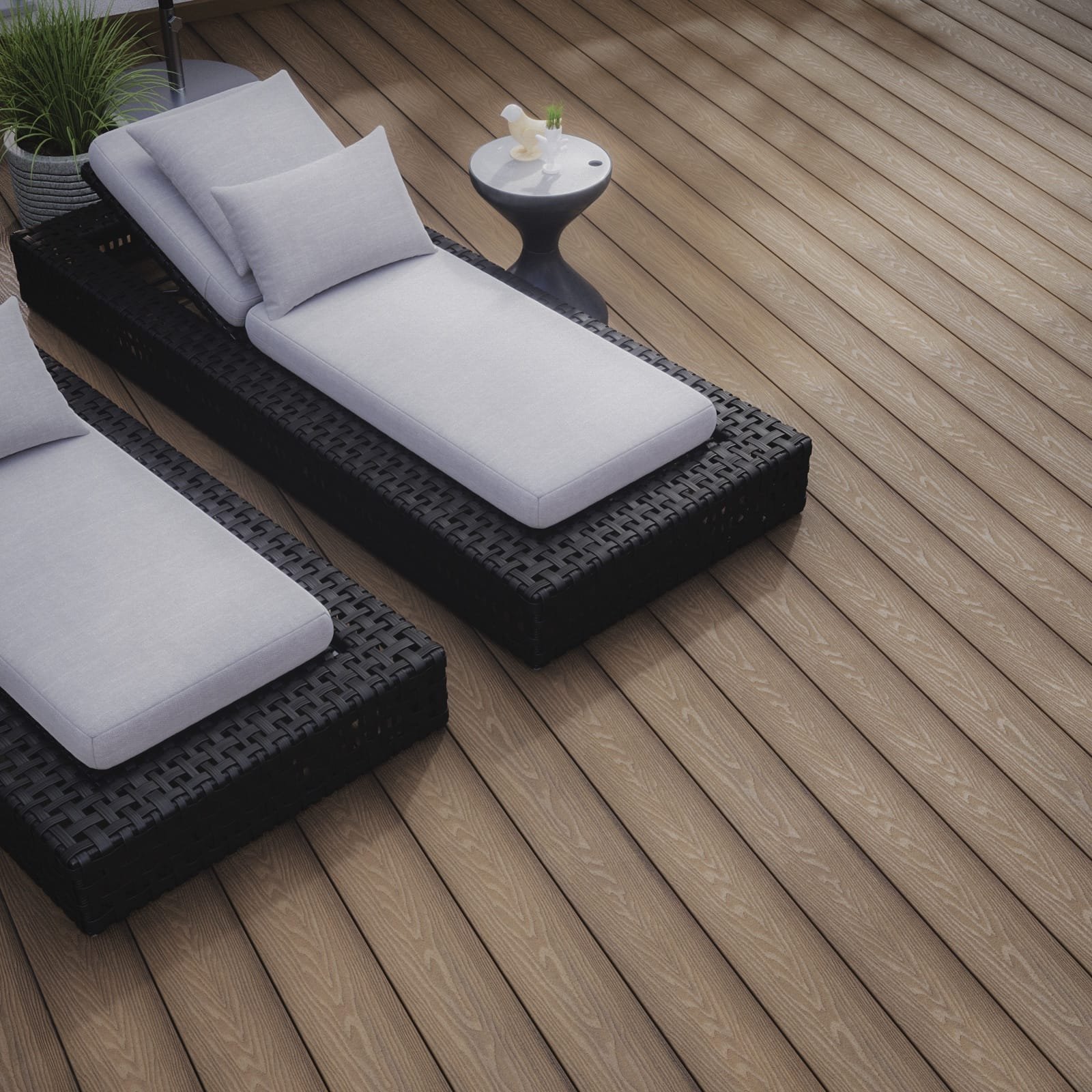 Where You Can Find Us
With knowledgeable dealers and distributors in the U.S. and Canada, we are ready to help you bring your outdoor space to life. Find out where you can buy Norx® and get started today.
Where to Buy